PROFINET is a widely used industrial communication standard with several benefits that make it popular in industrial applications of different industries. Here are some of the key benefits:
IO communication and TCP/IP communication over the same cable
Open standards and high interoperability
Support for various industrial applications and industries
Communication technology & information models
Increased availability, monitoring & diagnostics
Flexible network topology
Digitalization and Industry 4.0
Mature, widespread, many devices from various vendors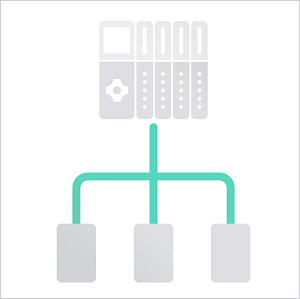 IO communication and TCP/IP communication
With its integrated, truly Ethernet-based communication, PROFINET satisfies a wide range of communication requirements, from data-intensive parameter assignment to synchronous I/O signal transmission. Communication takes place over the same cable in all applications, ranging from simple control tasks to highly demanding motion control applications. TCP/IP-based communication in a PROFINET network, e.g., for diagnostics from the control room or via the Internet in remote maintenance scenarios, is always possible in parallel.
Support for Various Industrial Applications and Industries
PROFINET is the leading industrial automation protocol for all manufacturing industries. Since it provides different profiles, different real-time communication standards and connectivity technologies as well as different information models, PROFINET covers processes of the discrete manufacturing industries as well as the processes of the process industries. It is a valuable technology for a wide range of industrial applications, including factory automation, process control, motion control, robotics, and more. Its versatility makes it a popular choice across different industries.
PROFINET offers deterministic communication, meaning that the network can guarantee specific response times for critical data. This is essential for applications where consistency and predictability are crucial, such as in manufacturing processes.
PROFINET is known for its high-speed communication capabilities, which allow real-time data exchange between devices. This is crucial for applications that require precise synchronization and rapid response times, such as robotics and motion control.
PROFINET supports deeply integrated functional safety communication through its proven PROFIsafe profile, enabling standard and safety-related communication over a single cable. This is important for ensuring safe operation in industrial environments and opens up new safety function possibilities.
PROFINET includes features for optimizing energy consumption in industrial processes, helping companies achieve energy-saving goals.
Communication Technology & Information Models
PROFINET covers the communication technology as well as different information models such as GSD, FDI, PA-DIM and mappings to various OPC UA Companion Specs which provide both, device- and communication-specific information.
Increased Availability, Monitoring & Diagnostics
PROFINET provices a flexible diagnostics concept which supplies important data regarding the network topology and the status of all devices. This ensures a cross-vendor, location-specific diagnostics. Integrated mechanisms for preventive diagnostics increase the availability, as well. It allows for remote access and monitoring of devices on the network. This can be useful for maintenance and troubleshooting, as technicians can access devices without physically being on-site.
Enabler for Digitalization and Industry 4.0
Thanks to the future-proof architecture of PROFINET, digitalization and innovative Industry 4.0 use cases can be implemented. PROFINET is designed to be compatible with standard Ethernet technology, making it easier to integrate with existing Ethernet infrastructure which can lead to cost savings by leveraging existing networking equipment and also allows the integration and use of new technologies such as TSN and OPC UA.